2024 Residents Association Fees
Based on resident feedback, we would like to give an early notice of the Orchards Residents Association (ORA) Annual Fee for 2024.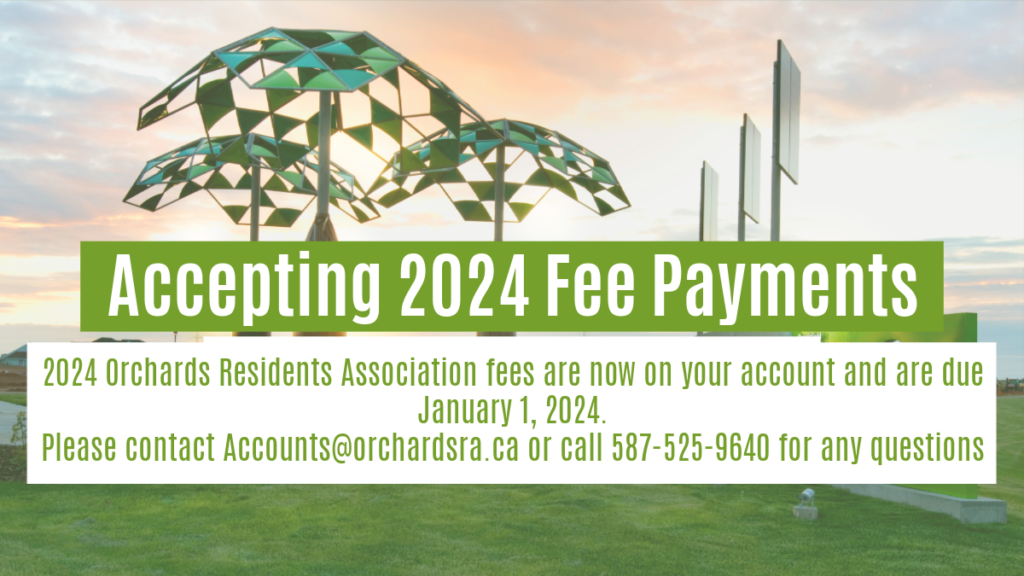 As a homeowner in the Orchards Residents Association (ORA) community, you are automatically a member of the ORA. The ORA is a not-for-profit company, which is incorporated and professionally operated, managed, and maintained. This vibrant RA owns and operates, for the exclusive use of the members, the Club House facility and park, as well as various amenities and features within. In addition to supporting healthy living and enhanced quality of life, your RA creates opportunities to meet your neighbours and develop connections.
Annual fees for 2024 are $422.00 plus GST.* The Encumbrance amount for each property is $550.00 per year and is subject to an annual adjustment by percentage increase, if any, of the Consumer Price Index (CPI) "All items" and GST.

Fees can be paid via Interac E-Transfer, online, over the phone, or in person at the Club House. To pay your fees via Interac E-transfer, email feepayments@orchardsra.ca (please include your name, and property address in the message. Please ensure that the transfer is of the full amount inclusive of GST which is $443.10. Please click HERE to pay your fees online and learn more about your Orchards Gardens Residents Association on our Membership Information Tab. 2024 budget will be sent to all members and be on our website in November.
Please contact accounts@orchardsra.ca for any questions or call 587-525-9640.